Sean Fredella – Alabama's Outstanding Youth in Philanthropy 2017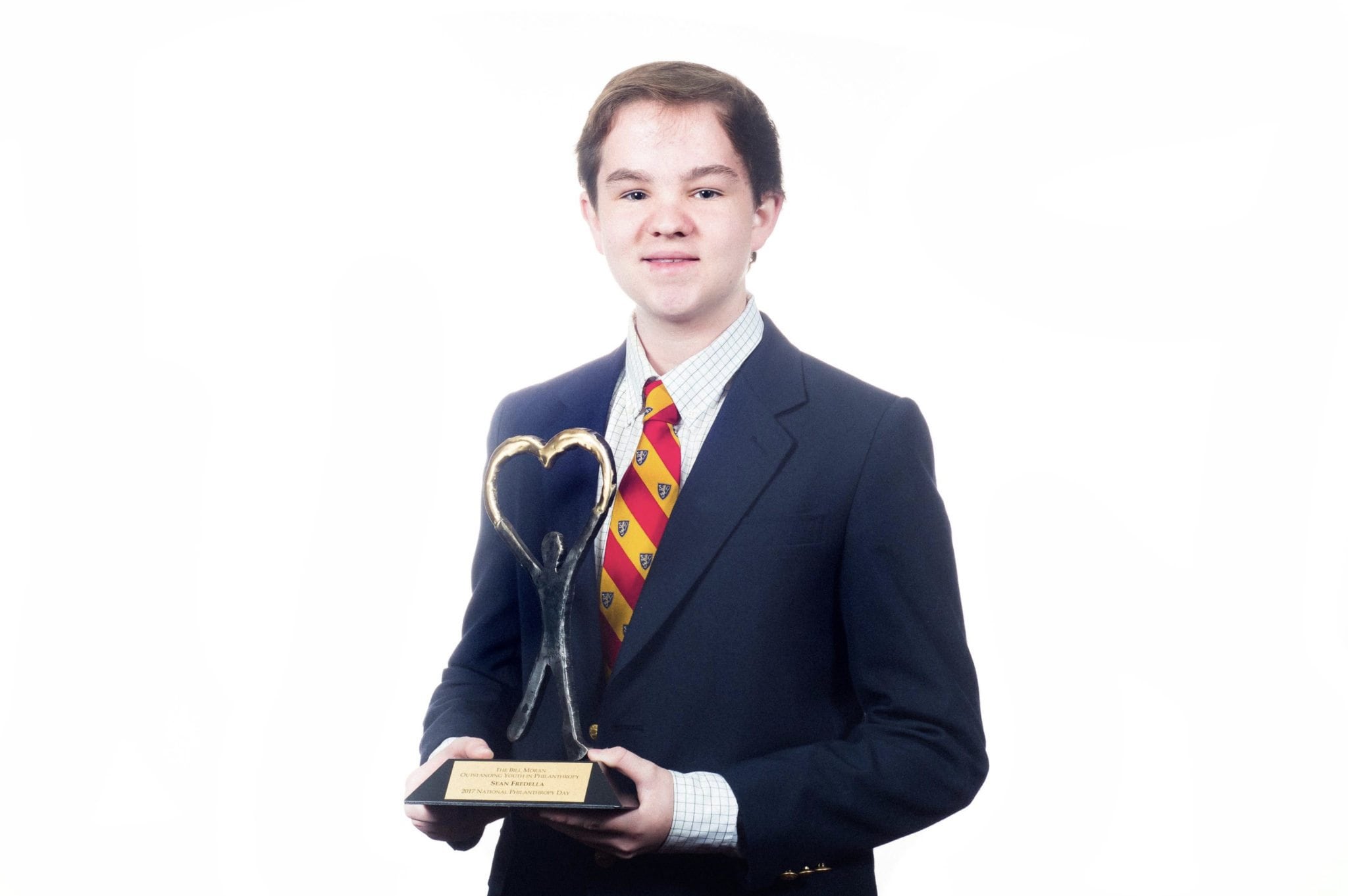 Sean Fredella, a patient at Children's of Alabama, has beat cancer four times and has not only fought hard to beat his disease, but also to raise funds and awareness for pediatric cancer research. He was recently awarded Alabama's Outstanding Youth in Philanthropy Award. 
During his 2016 TED-Ed Talk, Sean Fredella called himself the boy who was "Born to Fight Cancer." At just 17 years old, Sean has certainly lived up to the name having spent all but two years of his life battling the disease and championing fundraising efforts to stop it. Sean has beaten cancer's attacks four times and his leadership efforts have raised over $65,000. He has not only proven himself to be a strong and courageous young man well beyond his years, but his journey has inspired an entire community of both young and old to join him in his philanthropic efforts.
Sean was first diagnosed on Valentine's Day of 2003 at just two years old, beginning the first of three separate battles with acute lymphocytic leukemia. With radiation, chemotherapy, and ultimately a bone marrow transplant, the dedicated doctors at Children's of Alabama coupled with Sean's resilient spirit, were able to overcome cancer all three times.
In 2011 however, Sean was diagnosed with a rare adult tumor called esthesioneuroblastom which is found in only 150 patients around the world each year. He underwent a craniotomy in 2012 and, again, went through chemotherapy. As if his fight wasn't already demanding extraordinary courage, he also had surgery to remove 22 cancerous lymph nodes from his neck. Today, Sean is once again cancer-free, and after beating cancer four times, he has definitely earned the nickname the boy"Born to Fight Cancer."
During Sean's toughest days, hundreds of mailboxes were decorated throughout the community with big blue bows as a remarkable, poignant reminder of prayers and support for a twelve year old boy battling his fourth cancer diagnosis. From the blue bow campaign, the mission of "SEANstrong" was formed to help childhood cancer patients and survivors maximize their quality of life and to help survivors achieve long-term success.
After doing research of his own, Sean discovered that of all the money raised for cancer research, only 4 percent goes to funding research for pediatric cancer. This shocking statistic was the catalyst for Sean's mission of raising awareness for pediatric cancer research through sports. Pediatric cancer became his passion, and raising awareness to help get "More Than 4" became his mission.
Here are a few of the things Sean has done with his amazing philanthropic energy:
• The SEANstrong board was rebranded in 2016 to reflect Sean's very specific mission of promoting awareness of pediatric cancer research through sports. The new organization is More Than 4 Athletics.
• In 2017, Sean became a part of the Rally Foundation, whose mission is exactly the same as his. Sean, along with many other cancer patients are "Rally Kids" that raise money for pediatric cancer research. Since 2005, Rally has raised over $11 million for the cause. They support 48 hospitals across the country including Children's of Alabama.
• In 2016, Sean organized a 7 on 7 football tournament called the Gold Ribbon Bowl where over 80 high school students from surrounding schools participated to raise money for the Alabama Center for Childhood Cancer and Blood Disorders at Children's of Alabama. The event raised close to $2,000. They are planning to start clubs at both Mountain Brook Junior High and Mountain Brook High School.
• He spearheaded Pedia Trick or Treat, a Halloween event to raise money for the SEANstrong Fund, which benefits the Alabama Center for Childhood Cancer and Blood Disorders at Children's of Alabama. The committee hosted a silent auction and band event in Crestline Village, participated in the Halloween parade, and got children all over the Mountain Brook community to collect coins which they donated to the cause. That event raised over $8,000.
• He was a guest at the Children's Hospital Radiothon on Magic 96.5, a Birmingham radio station. He answered questions during a live broadcast and urged people to call in and make donations. After he told his story, the phones rang off the wall, and the donations started to climb!
• He served as Captain of his Relay For Life Team 5 years in a row. He held multiple events to raise money including a fun run and bake sales. He produced an inspirational YouTube video asking people to make donations to Relay For Life. His teams raised roughly $8,000.
• He served as the Honorary Crew Chief for Racing for Children's (more about this) in 2012. He helped with various race related activities and participated in media spots to help promote the cause of raising money for the Alabama Center for Childhood Cancer and Blood Disorders.
• This young philanthropist has become a renowned speaker for pediatric cancer. His speeches are always as genuine as they are informative. He is not afraid to talk about it all – the bad and the ugly – of pediatric cancer. His strength and passion are unmatched in his efforts to achieve More Than 4 percent for pediatric cancer research.
• While attending Mountain Brook Junior High School Sean participated in the TED-Ed Club. He was one of seventeen students from around the world selected to present his talk at the TED Headquarters in New York City. There, he spoke on the relative lack of funding for childhood cancer research. At the age of 15 this speaks to his intelligence, drive and confidence in representing his experiences to inform and inspire others.
Sean has been helping this community for years by sharing his story and by working to raise money for the Alabama Center for Childhood Cancer and Blood Disorders at Children's of Alabama, Relay for Life, The Leukemia & Lymphoma Society, and The United Way. His story was interesting, simply because he battled cancer four different times, and his journey seemed to be never ending. The blue ribbon campaign that began in his honor in 2011 has raised awareness and funds for Children's. Now that Sean is older, he is reaching out to others and is getting them involved with his cause. For example, his story of struggle and suffering was instrumental in the formation of Angel Pillowcases, a highly successful effort which benefits the poor, brings joy to children suffering from cancer, and funds programs at Children's of Alabama. Sean has made contacts with influential people in the sports world, and is working with them to help promote his cause. He is a part of the Rally Foundation, which is a successful foundation from Atlanta whose focus is the exact same as Sean's: Raising More than 4 Percent for Pediatric Cancer! Sean Fredella's story has touched the lives of many, and has directly affected thousands of people in a positive way. It's quite difficult to quantify this, as his impact has been recognized both in Birmingham and beyond.
There are no signs of slowing down for Sean Fredella. Raising awareness and funds to aid in research for pediatric cancer is THE driving passion and focus in Sean's life. The boy who was born to fight cancer plans to keep fighting, until children worldwide finally get More Than 4 percent!